About Cheri Koons, RN, BSN, CIMHP, ACN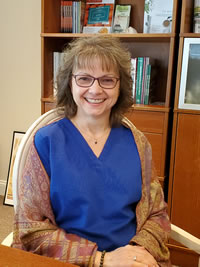 Cheri Koons, RN, BSN, CIMHP, ACN joins our expert nutrition team to offer personalized nutrition and holistic lifestyle programs for optimal health and well-being. She is dedicated to helping individuals discover their best selves through the joy of healthy eating, balanced with natural living, to support life-long wellness. Cheri integrates principles of applied clinical nutrition, integrative mental health, and heart centered wellness as she partners with clients, coaching them in a nurturing and supportive style. This eases the transition of old habits into making new simple food, health, and lifestyle choices. Cheri's intention is to support the body's natural state of health. Her wholefoods approach to nutrition and collaborative way of working with individuals is unique and offers life changing results.
Cheri Koons, RN, BSN, is a Certified Integrative Mental Health Professional and is Certified in Applied Clinical Nutrition. She is also a Certified Heart Centered Wellness Facilitator and holds a Certificate in Integrative Nursing. Her vast experience in Medical and Surgical Intensive Care Nursing combined with her Holistic principles and heart of compassion, allow her to provide the best of western and eastern modalities. Cheri has firsthand experience with agriculture from growing up and working on her family's dairy farm in Maryland. She remains grounded in common sense balanced with education, her love for animals, and her commitment to optimal health care for all beings.