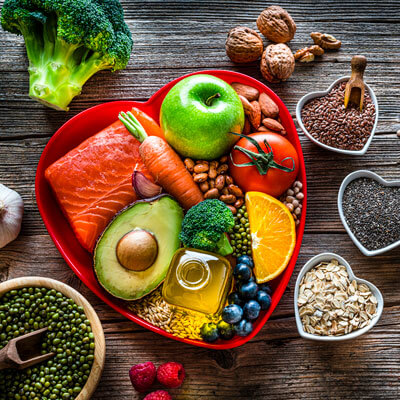 Holistic & Whole Foods Nutrition Counseling at The Family Wellness Center
Maximize your health and wellbeing at The Family Wellness Center. We believe that food is medicine. It can be our strongest ally in preventing and reversing disease. We recognize nutritional deficiencies and toxicities and the body's innate ability to heal. Our whole-foods nutrition philosophy assists you in finding a simple approach to optimal wellness. Nutritional counseling and therapy are appropriate for anyone who wants to be as healthy as they can be for as long as they can be. The many reasons people come to us for nutritional counseling and coaching include:
Weight Loss/Management
Immune Support
Pre-Diabetes & Diabetes
Insulin Resistance/Metabolic Syndrome
Compulsive Eating/Binge Eating
Eating Disorders
Alcoholism/Addictions
Autoimmune Disorders
Inflammatory Disorders
Memory & Cognition issues
Ageing & Longevity
Sports Nutrition
Heart Disease
High Blood Pressure
Food Allergies
IBS/Digestive Disorders
Fatty Liver
Hormonal Health
Anxiety and Depression
Cancer
Chronic Pain
Fertility/Pregnancy
ADD/ADHD
Hypothyroid
Mood Disorders
Specialized Diets
Skin, Nails, Hair Health
Your Initial Visit
The first appointment you have for nutritional counseling will take 90 minutes. We will discuss your history and goals, any lab work provided or recommended and results of your Body Systems Survey. If appropriate, a nutritional exam will be also be available. Together, we will create a customized program to help you meet your goals with a pathway to success. Every person who comes through our door will be treated with dignity and the recognition that a one size fits all cookie cutter approach will not work. We are also aware that low calorie, and fad diets do not work long-term and that everyone has a story that got them here and a unique personal path that will help them reach their health and wellness goals.
We are committed to helping each and every individual and their family experience optimal health & well-being. Therefore, frequency of follow-up appointments depends on your particular situation and health condition. We will give you our best recommendations, customized to your needs. We will create a customized plan for each individual. In addition, Nutritional testing, Functional medicine testing, Traditional Laboratory Blood testing, Allergy testing, Body fat analysis, and whole food supplements and herbs are available at additional cost.
Subsequent visits are offered at 30 minutes, 50 minutes, and 80 minutes.
Get to Know Our Nutrition Coaches/Consultants:
Our Range of Nutritional Services
There is no one-size-fits-all approach when it comes to nutrition. That is why we offer so many different ways to personalize your nutrition plan with us. Below, you can read about a selection of the nutrition-related services we offer.
Holistic Clinical Nutrition
Holistic Clinical nutrition is the study of the relationship between food and the well-being of the body and mind. Holistic nutrition recognizes the physical, chemical, mental, emotional, spiritual, and environmental factors that impact the expression of health and dis-ease. This discipline applies principles derived from current biochemical and physiological scientific knowledge for the purpose of promoting optimal health while recognizing biochemical individuality—a concept which suggests that no two individuals have the same nutrient requirements and that our needs will change throughout our lifetimes. Holistic Nutrition considers the whole person, their lifestyle, culture, history, and environment.
Food can be used to help heal the body at the source of the problem and prevent certain chronic diseases. Our team offers ongoing support in the development and continued success of your individualized food plan and lifestyle changes. Nine out of ten of the leading causes of death in the U.S. can be prevented with specific nutrition and lifestyle changes. We work with you to help you realize your health & well-being goals.

Holistic & Whole Foods Weight Loss Programs
Our nutrition team believes weight loss is a healing process in which your body strives toward optimal health to effectively gain health and vitality and naturally lose weight and keep it off for a lifetime. This methodology is the backbone for each of our individual and group weight loss programs. Everyone knows that caloric restricted diets and fad diets work for about 15 minutes. Yes, you may lose weight, but you will regain all of it back and then some. Severe Calorie restricted diets never work long term. Learning to prepare and eat foods that are nutrient packed, delicious, and easy to make allow you to embrace healthy eating for a lifetime of happiness and success. One meal at a time, one day at a time, you can master optimal health and weight management.

Eating Disorder Recovery
Our team of clinicians offers comprehensive treatment programs for individuals and families struggling to overcome eating disorders. Our multifaceted approach includes individual, group, and family therapy, as well as state-of-the-art nutrition and nutraceutical intervention.
In our counseling, therapy, groups, workshops, and unique coaching programs, we offer an alternative to chronic dieting and compulsive eating along with customized recovery programs for overcoming obesity, food, weight, and dieting obsessions.
Deborah Coulston is an expert in the treatment of eating disorders and our center is highly regarded for successfully assisting numerous individuals to achieve freedom from compulsive eating/dieting disorders.

The Family Wellness Center's 30-Day Sugar Detox Program
Our 30- Day Whole Foods Sugar Detox and Cleanse Program is designed to help you eliminate cravings and dependence on sugar and white flour once and for all. Based on Deborah Coulston's years of experience and expertise in working with individuals struggling with serious food addictions, compulsive eating, obesity and the symptoms of a lifetime of eating the Standard American Diet (SAD), our Sugar Detox Program was created to help you restore your body to a natural state of radiant health and well-being.
There are three levels of this popular detox program, so regardless of where you are on your path to better health and well-being, you can start today. Eat healthy whole foods, reduce your dependence on simple sugars and change your life. End your sugar and fat cravings now! No supplements required.

21-Day Purification Cleanse Program
Purification, also known as detoxification, can help you remove natural toxins from your body and help maintain a healthy weight. We are exposed to external toxins every day, including pollutants, pesticides and chemicals. Internally, our bodies produce waste byproducts as a result of normal metabolic function. Although your body is designed to rid itself of these toxins naturally, it can become overburdened.
Purification offers your body additional support to expel natural toxins and minimize your weight, which is important to maintaining your health and vitality.
Our 21-Day Standard Process Whole Foods Purification Cleanse Program offers great results to create permanent life-long changes. It is not a diet but is designed to help you live a healthier life by purifying, nourishing, and maintaining a healthy body and weight. The purification program emphasizes whole food supplements and whole foods, particularly fruits and vegetables while limiting high-calorie, refined foods, and saturated fats.
Nourishing yourself with nutrient-rich foods will provide the complex combination of vitamins, minerals and antioxidants needed to protect the body and promote optimal health. We offer a free workshop and group support to get you started on your new way of life.

28 Day SP Detox Balance Program
10-Day Blood Sugar Support Program and 10-Day Healthy Inflammation Response Program
We offer two 10-day programs to support organs and glands that help maintain healthy foundations and body systems. Our 10-Day Kits provide targeted support for some of the most common health challenges including blood sugar instability, Insulin resistance, Pre-Diabetes and Diabetes type II, as well as a host of inflammatory issues and disease Americans struggle with.
10-Day programs.
The Wellness Weigh Program
The Wellness Weigh Program is an individualized comprehensive wellness program utilizing integrative healthcare modalities that may include clinical nutrition, botanical medicine, homeopathy, nutrition psychotherapy, wellness coaching and a whole foods approach. It is for the treatment of compulsive eating, binge eating, obesity and holistic weight management.
The Taming Sugar and Fat Cravings Group
Our eight-week group is an educational support group designed for those who struggle with compulsive eating and weight management issues related to over-consumption of simple sugars as well as simple carbs and fat. Participants learn how to break free from unhealthy eating patterns and how to make peace with food. Group members enjoy interacting with new people, receiving support, learning educational and intervention tools and breaking the cycle of compulsive eating.
Participants will learn how to introduce whole foods and how to take simple steps to reduce and eliminate cravings and eat for health and wellness. Learning to tame sugar and fat cravings empowers you to lead a healthier, more joy-filled life.
30 Day Smoothie Challenge!
Take the Smoothie Challenge! We know that if you change your breakfast, you can absolutely change your life. Whether you are trying to eliminate cravings, increase your energy, incorporate raw food into your diet, stabilize your mood or just eat more fruits and veggies, healthy smoothies can be your solution. What takes 30 seconds and gives you vibrant health? A healthy, whole foods smoothie, of course! Sign up today to take our 30 Day Super Smoothie Challenge.
Move Your Body, Love Your Body
Move Your Body, Love Your Body is a unique program to help you start moving in a fun way. Whether your goal is to move 10,000 steps a day or just get off the couch occasionally, we can help you take the first step toward a healthier, happier lifestyle.
Today, sitting is the new smoking. Most of sit all day long at our computers and then we relax in the evening in front of our TV or computer with snacks added. We lose 10-15% of our muscle tone each decade resulting in serious functional health issues by the time we are seniors.
In a workshop or group format, or as an individual consultation, our goal is to integrate simple, easy, fun movement and healthy self-care into your life each day. We all need to bend, stretch, move, and engage in weight bearing exercise. We also need to integrate movement into our daily lives and find movement that nurtures our mind, body, and spirit. From walking, to yoga, to weight resistance training, to dancing, to pickle ball, sports-hooping, rebounding or whatever gets you to love your body and move your body- we are here to support you and coach you all the way.
---
Nutrition Counseling Harrisburg PA | (717) 558-8500